I have been trying to get this answered via searching the forum, email, and Twitter without a response. I feel like I should be the only one with this issue. There are some advertised Pro features (screenshot below) missing.
–I downloaded Opal over a year ago and just started using it for the first time with the screen time API. It seems like you guys have made a massive leap forward in how the app works and I'm excited for it. I really want it to work well for me and move me towards a more meaningful use of my phone.–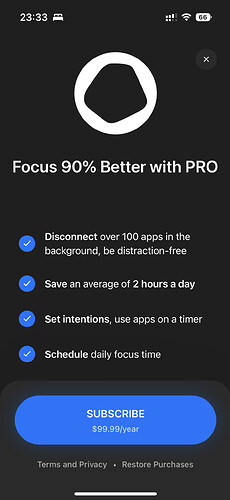 –After writing this set of feedback it seems a little harsh, but my free trial ended without getting an answer and two things on here are advertised as a feature of pro.–
49 App Limit
When I started my free trial it mentioned blocking over 100 apps. I thought that meant I would be able to block more than 49. Is it possible to block more than 49 apps? I have 208 applications according to my phone and would love to be able to block all but a few (Messages, Phone, etc.) for blocking sessions, essentially turning my phone into a dumb phone for the focus session. Did my premium upgrade go wrong or is this a built-in limitation (possibly of the iOS Focus API)?
Inactive Widget
I tried to set up a dashboard of sorts for my evening focus session. The Lockscreen widget shows a countdown, but the Homescreen widet only shows my gem without any information at all. Is this widget supposed to show anything? I would love to see a focus session length and countdown, or at least a minimum "Session in Progress". Right now it's just an icon that takes the space of 8 app icons.
Lack of Intentions?
Intentions were listed as a feature, but are nowhere to be found. I loved the idea of typing what I was going to do with a break, so I could keep myself using my phone more intentionally.